I've always been a picture taker.  The kids' sporting events, theatre productions, graduations, school presentations, and of course the holidays.  But since last summer after my oldest son, Travis bought me a camera, I've become a photographer.  No, I haven't been paid for my pictures and I haven't taken a class.  Travis has taught me a few things like not focusing directly on the sun or a light because that's how those red blotches show up.  I've become a photographer because I look at most everything through a lens now.
I see detail and beauty where I didn't notice it before.
Coincidentally, my new love for photography began around the same time I began my Life Coach training program with Dr. Martha Beck. By the way, my definition of coincidentally changed a few years back.  We're taught that if it happens by chance, it's a coincidence.
But when things coincide it means they agree, harmonize, they fit!
And that's exactly what happened with photography and life coaching.  At the same time I was learning to see ordinary things through a camera lens and discover their true beauty, I was learning to see how life situations can be seen in a whole new way.  I learned coaching tools that can help dissolve worrisome thoughts, and tools that can take a headache of a problem and turn it into something quite manageable.
These are pictures I took last week at Disney's California Adventure.  Yes, at Disneyland I'm taking pictures of trees, waterfalls, and plants.  I did get a couple of my daughter too.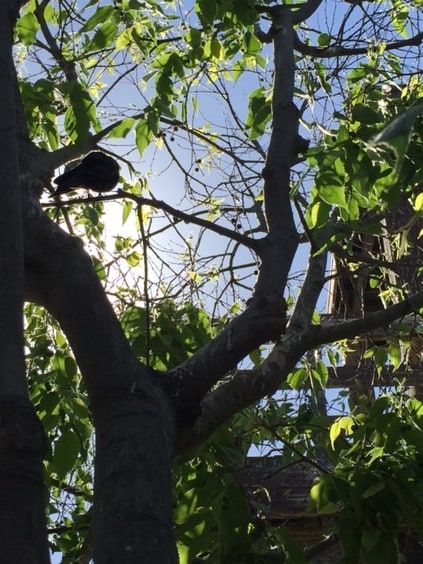 After coming out of Radiator Springs (CARS' LAND), we entered Fisherman's Wharf.  It was a beautiful morning and the trees were calling out to be gazed upon. But once I looked up I found they were filled with birds.  I never really noticed these trees before, much less the birds.  But there they were, silently enjoying the beautiful morning sunshine just like we were.
I love light.
When I'm looking up into the trees and I can see the light, I'm so happy!  But sometimes the trees are so thick with branches and leaves, or grouped so closely together it can make it hard for the light to shine in.  But if I move around slowly and get it at just the right angle, the light shines through beautifully.
Is there somewhere in your life where you might enjoy a little more light?
This is what life coaching does.  It let's in the light.  It helps clear away the old, cluttered thought patterns that aren't getting you anywhere but upset.  Upset about the same people and the same situations.  Upset that you're in the same place you were last year when you told yourself you were going to make a change.
When I'm looking through the trees and find just the right amount of light, I'm so happy.  And when I'm coaching someone who has cluttered thinking about something or someone, I take my time.  I look at the situation from different angles and offer tools that let in a little more light.
Because when even one person has a little more peace in their life, our whole world is a more beautiful place.
Love, light and peace to you.