Written April, 2013, 2 years after weight loss surgery
I'm asking this question as a result of Dove's latest ad, Camera Shy.
At the beginning of Dove's video we see women doing
what we've all done and still do, hiding from a camera.
As morbid obesity approached, most of us did not go within
100 feet of a camera.  So we watch these women and think,
"That's normal. It's what we all do."
And then Dove asks,
"When did you stop thinking you're beautiful?"
Even though the video's music "Peek-a-boo," is whimsical,
and the little girls near the end are adorable, we can't help but feel
a tinge of sadness for what Dove is telling us because we know it's true.
There was a time when we loved ourselves so much
we didn't give a thought to other's opinions about our beauty.
If a camera was pointed in our direction we posed, we smiled, we beamed!
But somewhere along the line, that stopped.
Dove tells us that nearly every woman has this reaction to the camera, thin or not.
Dove says, "We created Camera Shy to ask women why they hide from the camera as an adult but loved the camera as a little girl…what happened along the way?  We're inviting women to reflect on the point in their lives when they became their own worst beauty critics and encouraging them to be their own beautiful self."
So I asked myself,
"When did I stop thinking I was beautiful?"
I can't say I have a specific date, but I have some memories.
My childhood was similar to my adulthood, in that I spent some
years at a normal weight and many years overweight,
although as an adult I also had years of morbid obesity.
I recall studying pictures of myself when I was in 8th grade,
hating my thighs, stomach, and upper arms. My friends were all thin, my sister was thin,
and I was not.  I found a few of these pictures recently and shared them
with my daughter, Grace, 14.  I told her what I thought of myself back then.
"Mom, you were crazy.  You were beautiful!"  She was right.  I was beautiful.
But I didn't see it then. Yes, my thighs were larger than my best friend's,
but I was also three inches taller than she was.  I can see this now,
but I couldn't see it then.  Those feelings continued through high school
where I always felt like the biggest person in the group.
The next memory of not beautiful was after I had my first son.
I wore my hair in a short, no-fuss style and carried around 50 extra pounds.
At 19, I thought I looked like a worn-out middle-aged woman while
all my friends looked exactly like they did the day we graduated from high school.
I hated those pictures of myself.
So this pattern continued, and it's no surprise that my photo memories
always revolved around my body.  What's sad is that I lost touch with why the photos were being taken; a birthday party for my mom, a soccer game with my sons,
a dance recital for my daughter, a family reunion. I could never enjoy the moments in the pictures because I was only focused on hating the appearance of my body. 
Okay, I'll ask you.
When did you stop thinking you're beautiful?
If you're preparing for weight loss surgery now, or thinking about having surgery, brace yourself….
You are beautiful right now.
Hold on,
yes,
read that again.
You, sweetheart, are beautiful right now.
How I wish someone had spoken these words to me even a few years ago.
Truly, you are beautiful today, exactly as you are right now.
Can you allow these words and their meaning to sit with you?
Can you take it in?
Please don't shut it out, don't brush it off.
You are beautiful.
If you've had surgery, and you're scared to feel beautiful or you don't believe you've earned the description of beautiful yet,
You are beautiful.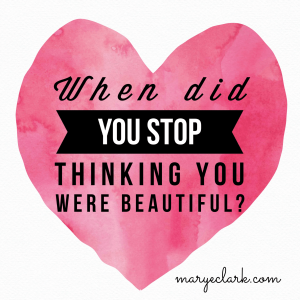 It doesn't matter where you are in your weight loss surgery journey.
Right now, right here today,
You are lovely.
Please take this in and hold it for a few moments,
or even longer if you can.
We have all earned the description of beautiful.
We are all our own beautiful selves.