A couple weeks ago I told you how I go through exercise phases proclaiming, "Step aerobics is life," or "Walking is life," or most recently, "The gym is life."
Turns out I do the same thing with food.
I was going through some summer pics this week and found these from my birthday in June, when my son made me dinner.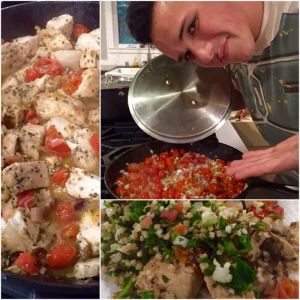 When Adrian asked me what I wanted, I told him I wanted exactly what I'd been eating all month! Grilled chicken and Tabouli of course…because this food is LIFE!
He made Mediterranean chicken, Tzatziki sauce and rice, and served it with Tabouli from Trader Joe's.
FANTASTIC!
I guess we're creatures of habit. But isn't it cool that you can develop new habits?
Now take a minute, sweetheart. What are your current habits with food and exercise?
Whether it's a habit you want to shout from the mountain tops or one you'd rather bury under a rock…speak it into the light.
Type it.
Write it.
Speak it.
Acknowledge it.
Own it.
And then decide where you want to go with this habit from here.
"When we deny the story it defines us. When we own the story, we can write a brave new ending." ~Brené Brown
Love, light and grace to you.