Written November, 2013, 2  & 1/2 years after weight loss surgery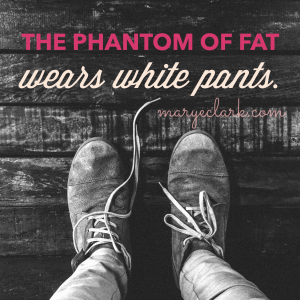 What piece of clothing have you put on since having weight loss surgery,
that you never thought you ever would, or ever could?
And I just don't mean the jeans from 10 years ago,
I mean something you've never worn before,
or not since you were a teenager.
For me, it's WHITE PANTS.
No white pants before Memorial Day,
no white pants after Labor Day,
and no white pants when you're morbidly obese!
This is the rule I followed anyway.
I followed it even when I wasn't overweight,
in fact I can't even remember wearing white pants as an adult.
The last time I remember wearing white pants was 6th or 7th grade,
white dittos and a rainbow t-shirt.
Right now I'm volunteering with an organization
that's asking its volunteers to wear all white for an event.
Are they kidding?  All white? My first thought was,
"Where does one buy white pants in September?"
I couldn't believe I was shopping for white pants, even online.
The day they arrived I took them out of the box,
held them up, and stared at them like one would
a Halloween costume she was being forced to wear.
They looked okay out of the box,
but I couldn't bring myself to try them on. 
A few days went by and I was nearing the date
I HAD to wear them.  It was time.
I took them out of the closet, still peering at them
like something I had never laid eyes on before.
I have a full-length mirror in my bedroom,
and I turned away from it as I pulled the white pants on.
Once I knew they fit, I slowly turned around. 
They not only fit perfectly but they looked pretty good too.
I stared a little longer and let myself absorb
the feeling of white pants.
Who knew white pants could feel so good?
On the day of the event I was wearing all white.
Aside from my son, Nick, telling me I looked like
I was heading to Karate class, I felt pretty good.
But what a struggle it was to get here.
Feeling like I could leave the house in white pants.
The Phantom of Fat had returned.
But with patience, determination and courage,
I faced him down and checked another thing off my list.
Actually, white pants weren't even on my weight loss surgery bucket list,
but I do enjoy adding these unexpected experiences to the list
and marking them off at the same time.
I wore my white pants all day, and survived.
I did more than survive, I loved my day in all white!
Now, I'm not saying I'll be wearing white pants around town now,
after all, it is nearly one month after Labor Day.
But perhaps when summer rolls around I'll put my white pants on again
for a picnic or bike ride at the beach.
What are your white pants?
What's the thing you still can't imagine yourself doing?
Where's the place you still can't imagine yourself going?
Put your white pants on and go!
"Do not let your fire go out, spark by irreplaceable spark
in the hopeless swamps of the not-quite, the not-yet, and the not-at-all.
Do not let the hero in your soul perish in the lonely frustration
for the life you deserved and have never been able to reach.
The world you desire can be won.
It exists…it is real…it is possible…it's yours."
-Ayn Rand