Are you doing the best you can with what you have? And are you recognizing when others are doing the best they can with what they have?
My mom and dad adopted me in 1967 when I was three months old. She was 45, he was 38. My mom was very hip for her time, marrying a younger man when she was 37 while enjoying her career at Bank of America in downtown Los Angeles where she and my dad met.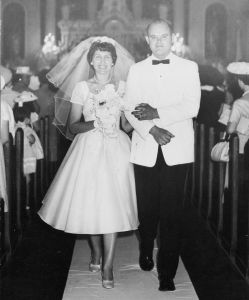 My parents grew up during the Great Depression. She wore shoes made of tires and often ate soup made only from what her mother grew in the backyard. My dad's father left him and his mom when he was a baby. He grew up with a stepfather who didn't think very much of him.
I'm not classified as a Baby Boomer, but I grew up like one. My Depression-era parents lived through rough times. They knew scarcity, war, and struggle. I grew up washing off aluminum foil, folding it back up and using it again…and again. Butter containers were never to be thrown away – those became your Tupperware. Expiration dates on cans and jars were merely a suggestion, that we never paid attention to.
I grew up knowing my parents loved me, but there wasn't a lot of kissing and hugging. My dad kissed my mom on the cheek when he came home from work and I kissed them goodnight before bed, but there wasn't a lot of dancing and swinging each other around in the kitchen, or giant bear hugs. Neither were my parents big on cheerleading or goal-setting, or many of the other parenting techniques that were popular by the time I started mothering in 1986. Bottom line, I was loved and supported in the style my parents knew how to do.
But I never looked at my parents with less-than eyes, even when I got older and looked back on my childhood. I don't remember where I heard the phrase in my early 20s, but I remember it fitting how I felt about my mom and dad.
"They did the best they could with what they had."
In truth, they did better than their best. They were amazing parents and I'm grateful.
In her book Rising Strong, Brené Brown grapples with the question, "Do you think people are doing their best?" At first, she gives an emphatic NO. But as a qualitative researcher, she decides to do a little more exploring. Here's what she learned.
"No." Those who said no were as emphatic as Brené was initially, and they relied on themselves for evidence to support their answer, "I know I'm not doing my best so why should I assume others are…I don't give it 110% when I should." Brené points out, "They judged their efforts in the same exacting manner as they judged the efforts of others…they also struggled with perfectionism…being as hard on others as they were on themselves."
"Yes." The overall belief from those who said yes was, "It didn't mean that people couldn't grow or change, still at any given time, they figured that people are normally doing the best they can with the tools they have."
Here's the thing. The YES group, even before this question, had already been identified by Brené and her team as WHOLEHEARTED, willing to be vulnerable and believers in their self-worth. "Instead of pointing out where they could and should have done better, they pointed out that their intentions were good and they were trying."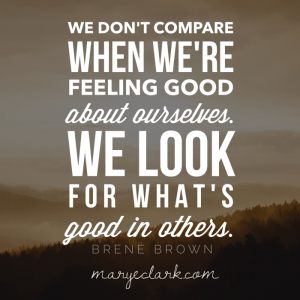 Sweetheart, do you think people are doing their best? Before you answer that…
Are you doing the best you can with what you have?
That's the big question. Your answer to this question tells you what you're most likely to think about others, and it makes sense to me.
In my early 20s I was a divorced mom of two little boys. I'd already begun my library of self-improvement books and was doing my best to take it easy on myself. I was doing the best I could with what I had. And with that understanding and compassion for myself, I could look at my mom and dad and wholeheartedly say, "They did the best they could with what they had."
It's a practice, sweetheart. Begin with yourself. Because my hunch is, you're doing the best you can.
Love, light and grace to you.