My Aunt Nini died recently.  She was 96.
She never married. But that doesn't mean she didn't call one man the love of her life.
She never had children. But that doesn't mean she didn't love her nieces and nephews with all her heart.
I was blessed to be one of the recipients of her big, beautiful heart.  She loved me.
I have wonderful memories of visiting her in Phoenix for many Easters vacations, for fishing, swimming, shuffle boarding, cooking and Easter egg decorating. Then she'd visit my family for a couple weeks during the summer, to escape the Arizona 100s. We'd write each other letters, and I'd always address the envelope with her given name, Giovanna.
Aunt Nini was an artist who loved painting with watercolors & oils, and drawing with charcoal & pencil. I'm lucky to have some of her paintings and drawings hanging in my home. When I was at her house she'd eventually discover me in the art room going through her supplies, hoping she'd let me create something. She always encouraged my creativity as we sat together painting or drawing.
My Aunt Nini was committed to her Catholic faith. She was a woman of strong morals and high standards. But when I became pregnant just out of high school at 18, it never changed her love for me. She didn't judge me and never treated me differently.  She loved me.
By the time I was 22 I was a divorced mom with two little boys.  Aunt Nini visited my mom every summer and took her great-nephews hiking and tadpole hunting at the local nature park. She guided my boys back home marching and singing, carrying sticks, rocks, plenty of mud and big smiles. For her repayment, she'd ask us to sing her favorite country song, Dolly Parton's, "Coat of Many Colors." I went on to have two more children, and a stepson, who all loved her dearly.
When my two youngest, Adrian & Grace, were in grade school, we took them to see Aunt Nini in Phoenix. On the night of our arrival I proudly told Nini, "We're taking you to an exciting restaurant, you'll love it!  It's like being in a rainforest!" We arrived at The Rainforest Cafe and I was beyond thrilled to show Nini the trees, jungle animals, and aquarium. When the thunder and lightening struck I said, "Nini, it's like being in a rainforest!"  She kindly and lovingly replied, "You know sweetheart, I've been to the actual rainforest in Venezuela."  Yes, Aunt Nini also loved to travel.  Venezuela, Mexico, Spain, Portugal, and even an extended visit to Northern Italy to live with her father's relatives and experience life as a real Italian.
In 2007, she moved from Phoenix to Southern California to be closer to her sisters and many nieces and nephews. We spent more time together while she lived with my aunt, and even more when she moved in with my mom. For her 90th birthday she wanted to go to Disneyland and get her own set of embroidered Mickey Mouse ears.  We had a wonderful day together.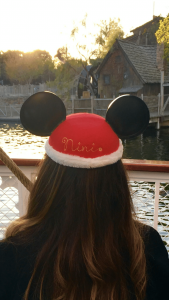 In 2008, when my husband and I separated, I remember walking into her bedroom at my mom's house. She heard me, turned and opened her arms. She held me for a long time. We cried together. She didn't judge or lecture me. She loved me.
In the fall of 2011, while I was at the onset of my second divorce, she was admitted to the hospital a few times. While sitting with her…
Nini:  "I don't know why I'm still here."
Me:  "You mean in the hospital?"
Nini:  "No. Why does He still want me here?"
Me:  "God needs you here because He has a purpose for you still.  And He will not call you home until it's time.  Right now, you're here because I need you to hold my hand and to sit with me while I cry.  Just to be here with me."
Nini:  "Alright," as she closed her eyes, held my hand, and let me cry.
Some of my last favorite visits with her include…
Looking through a coffee-table book about Italy.  Although dementia had set in she could still remember the details of her favorite place in the world.
Looking at postcards from the Los Angeles County Museum of Art. She stared at the details of one picture for so long I told her we should draw it together. I took out paper and started to sketch it. Although she couldn't hold her hand still enough to grasp the pencil, she did point out to me where I should continue my lines and fill in more shading.
Listening to John Denver, Celine Dion and Josh Groban singing, "Oh Holy Night" and Carrie Underwood singing, "How Great Thou Art."
When I received the call from Aunt Nini's caregiver that she had died, I was at peace. Grace and I drove to her home to say good-bye, listening to "How Great Thou Art," on repeat.  The last verse spoke to my heart and comforted me.
"When Christ shall come with shout of acclamation
And lead me home, what joy shall fill my heart!
Then I shall bow with humble adoration,
And then proclaim, "My God, how great Thou art!"
I loved her,
and she loved me,
no matter what.
Love, light and grace to you.