In the early 90s I lost 70 pounds on Weight Watchers but I didn't do it the right way. I used the program to the extreme Monday through Friday, then on the weekends I ate whatever I wanted. I gained back half that weight within a few years.
I was reminded about my Monday through Friday extreme diet plan when my client, Sheila (not her real name) told me how hard it is for her to stay on track over the weekends,
"I don't know what happens. By Saturday evening I'm tired, cranky, and then I start snacking."
As we talk a little more Sheila tells me that the principles she practices during the week seem to go by the wayside on the weekends. "I don't workout first thing in the morning. I wake up a little later and my family usually wants to go out for breakfast so I don't drink a protein shake. I never seem to make time for meditation or writing, and I rarely track what I'm eating. And don't even ask me about water!"
You see, along with exercise, healthy eating and food journaling, Sheila's identified four more principles that contribute to her well-being, including daily meditation and writing. The past few months are evidence that when Sheila practices all her principles, her weight loss is consistent.
But what to do about the weekends?
"I think the Monday through Friday pattern works for me. Things just seem to get crazy on the weekends."
Hmmmmm…..smells like resistance as self-sabotage.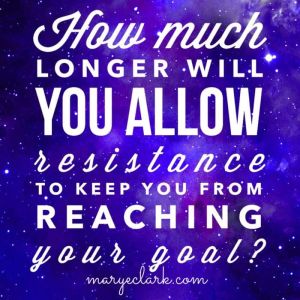 Sheila's pretty consistent Monday through Friday, but considering what she's said about the weekends, to some extent she's relying on external structure to guide her actions during the week. That's not going to work long-term.  It's time for a heart and mindset shift.
Here's what Sheila and I discuss.
Her WHY.
And this isn't the first time you've heard about the importance of WHY from me. It's the driving force against RESISTANCE. It's what we call into our hearts and minds when we notice we're resisting doing something we've declared is important to move our lives forward.
Clarity.
Sheila says crazy weekends are the reason for going off track. But it turns out her weekends aren't so crazy, just unpredictable. And Sheila, like most people, likes predictable.
Evidence.
Sheila has plenty of evidence from the last few months that the principles she's chosen to practice are exactly what she needs for consistent weight loss that moves her closer to her WHY. Her principles are working.
Resistance.
After reviewing a couple of resistance situations Sheila experienced and overcame earlier in her weight loss surgery coaching, she realized she'd forgotten to call upon her resistance-mantra during her weekend struggles.
So here's Sheila's INSIGHT & ACTION. (Yep! The client is the one who comes up with the solution. I ask questions and clear away the muck so the client can…well, see the light!) 
Flexibility.
"I get it. It doesn't have to be all or nothing," Sheila said. "Just because my family wants to go out for breakfast, nobody's stopping me from drinking a protein shake. And maybe I don't want to do a 45-minute workout on Saturday mornings, but I can do 20 minutes. The same goes for meditation and writing. My weekends aren't so crazy that I can't find 30 minutes. When I skip the things that keep me on track during the week I feel guilty, like I'm setting myself up for failure. Before I know it I'm snacking randomly and feeling grouchy. Yeah, that's what's causing it. My WHY means a lot to me and my family. There's no room to shortcut it on the weekends."
I could already hear it in Sheila's voice. More importantly I could feel it. Her breathing was calm but at the same time she was energized because it all clicked. She got it.
Why do we sabotage ourselves? 
Because we're getting closer to our WHY, our goal, our dream. The key is to be aware of the resistance and notice the physical and emotional feelings when we're facing it. Then summon our WHY into our hearts, make a mindset shift and take action.
"Resistance is that negative force that arises whenever we try to move from a lower level to a higher level." – Steven Pressfield
You know this is true! Actions that lead us to our best lives are also the habits that are hardest to stick with.
"The more important an activity is to your soul's evolution, the more resistance you will feel." –Steven Pressfield
Is resistance and self-sabotage keeping you from your goals and dreams?
Are you meeting resistance head-on with the power of your WHY?
Are you clear on your WHY, your dream, your goal?
Are you paying attention to your body's physical sensations when you resist the action you committed to?
Do you notice the emotions that come up when you skip or stop doing the activity that was getting you closer to your goal?
How much longer will you allow RESISTANCE to keep you from following through on the actions you say are so important to reach your goal?
It's time for us to talk so you can have clarity around your WHY, your well-being principles and your RESISTANCE mantra. Let's get going! Schedule your FREE hour with me. Yep! That's right. Keep your credit card in your wallet because this hour is on me.
Light, love and grace to you.