World events can feel so far away.
Last year the Paris attacks touched close to home for our family, when my daughter sang at the funeral for the only American killed there, Nohemi Gonzalez, who went to her high school.
This week, the attacks in Brussels seemed far away but then worry hit close to home when I learned that President Obama was in Buenos Aires the same day as my daughter, and security was heightened because of the Brussel's attacks.
Far away, yet so close to home.
Again, it's Mother Teresa's plea that guides me.
"What can you do to promote world peace? Go home and love your family."
And C.S. Lewis calls us to love and care for those who surround us right now.

"We can't love the whole world. But we should remember that God has placed us in a specific community at a particular time. We're called to love those around us. Loving them means serving them, and in doing so we become the best citizens."
What action can you take TODAY in the community God has placed you in?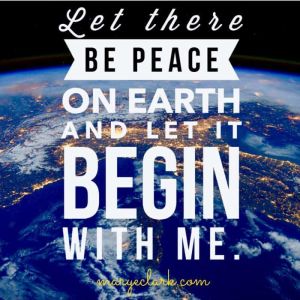 Your family-community.
Your neighborhood-community.
Your school-community.
Your work-community.
Your gym-community.
Your local coffee shop-community.
Let me reframe my question.
What action WILL YOU TAKE?
Begin with yourself first, because peace begins with you.
Here's a simple 1-minute PEACE meditation I love, and my 6-year-old granddaughter uses on the playground when she starts to get upset. It's taught by my beautiful teacher, Gabby Bernstein. You can skip to 1:01 to get started quickly.
"Let peace begin with me
Let this be the moment now.
With every step I take
Let this be my solemn vow.
To take each moment
And live each moment
With peace eternally.
Let there be peace on earth,
And let it begin with me." ~Jill and Sy Miller
Light, love and grace to you.