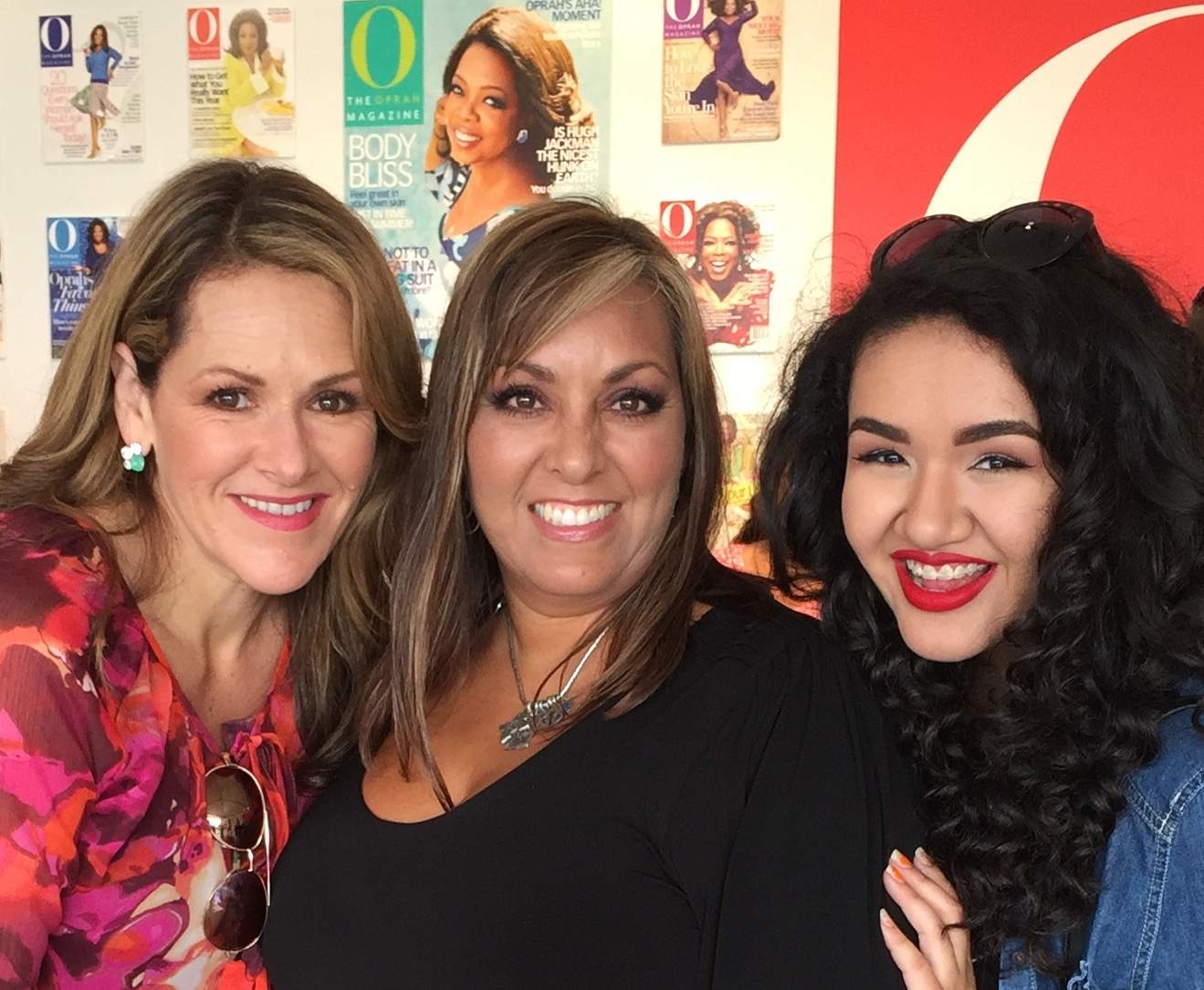 I just had a magnificent time in San Jose at Oprah's THE LIFE YOU WANT WEEKEND! There were so many incredible moments. Here are some of the highlights.
First, Grace, Michelle (my lifelong friend of 40 years), and my son Travis arrived in San Jose after our six-hour drive, quickly changed in a Starbucks bathroom, and headed over to O TOWN. We had a great time taking photos at the O Magazine lounge.
Don't you love how the beautiful the universe is? This is Melissa Villasenor, comedienne and
impressionist. She entertained guests at O Town. She was an America's Got Talent finalist, the voice of Nora Ephron on Family Guy, and…the lead singer to my son's band his freshman year of high school. She sounds just like Gwen Stefani, Christina Aguilera, and anyone else she chooses. After her performance she graciously took the time to talk with us and take some photos. She is funny and lovely.
I especially loved the opportunity to write down when I feel most complete. As we waited in line,
Michelle asked me what I was going to put down.  "I don't know," I told her. I let it go and knew it would come to me before we reached the front of the line.  And it did.  Brené Brown's words popped into my mind, "Don't shrink, don't puff up, stand your sacred ground." It's a statement about having the courage to be authentic. Even as I type this post, Aunty Brené (as Grace calls her) reminds me to be brave and keep typing.
We were a little late returning from the hotel after a quick freshen up, so here's my long distance shot of Iyanla Vanzant. What you don't see is my tearful reaction.  Not crying, but tears filled my eyes. Iyanla Vanzant, or as Grace calls her, Aunty Iyanla, was a key teacher for us in 2011-2012. She was on Oprah's Life Class and taught us valuable lessons. I read her book, Peace from Broken Pieces. For Christmas in 2011, I gave my daughter a beautiful ice cream scooper because Aunty Iyanla taught her that life is so wonderful that you just need to scoop it up! This meant a lot to Grace as her parents were at the beginning of a difficult divorce and she needed to believe that life was still beautiful.
Iynala left the stage and the emcee announced it was time for everyone to head over to the arena for the main event. Some of Oprah's producers, whom Grace and I have seen on Oprah's various shows, were still standing near the stage. I asked Grace if she wanted to take a picture with Producer Jill. Like all of Oprah's team, Jill was generous with her time. After she posed with Grace, I told her how much Oprah's Life Class series helped my kids and me during a terrible divorce. She asked Grace how she was doing and shared that she had also dealt with her own parents' divorce. She told Grace she understood what she was going through. Of course Grace said, "Mom take a picture with Jill!"  So this is me, with tears in my eyes, and the compassionate and lovely, Jill Van Lokeren.
And this is Gretchen, fellow Martha Beck Life Coach. We met in Pismo Beach last month when Martha Beck brought her new coaches together for a transformational weekend. I first said hello to Gretchen at the elevator after checking in. I needed to speak with another human being. My four-hour drive to Pismo Beach was spent on the phone with my daughter, my sons, and my ex-husband. Earlier that day Grace's school went into lockdown as there was a gunman suspected on campus. I remained calm throughout the ordeal as I was communicating with Grace and then her dad and brothers to coordinate her pick up from school. But when I arrived at the hotel in Pismo Beach, my body could feel it. Gretchen was getting off the elevator and I asked her, "Martha Beck?"  She said, "Yes."  She wasn't replying that she was Martha Beck of course, but that she was a fellow coach. I could tell. I told her what had happened with my daughter and that I just needed to be in the presence of someone who could hold space for me to feel it. Gretchen answered her call to duty beautifully. She was calm, centered, and spoke to me with the kindest voice. We spent the whole weekend getting to know each other and were thrilled to learn that we both had tickets to Oprah's The Life You Want Weekend!  We have so much in common, but that story will be saved for another post!
Well, at this point in the story it's time for the main event.  Oprah is about to take the stage. I've only begun to digest all she and her trailblazers taught us.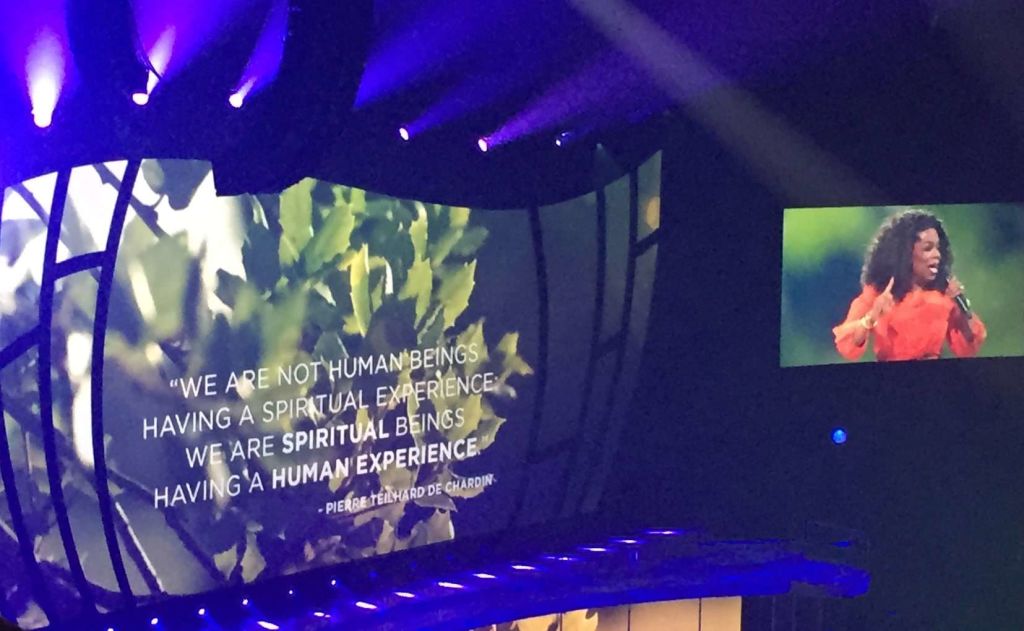 I am grateful.