Sweetheart, this blog post is about life. I do talk about weight loss surgery too, but there's a message here that's for you. Give it a read or a listen.
Written July, 2012, 14 months after weight loss surgery
Because I've been in the weight loss surgery field for more than a decade,
I've connected with many patients especially now that I've had surgery myself.
I received this message from Rosalie, in response to a question I posted
about exercise after weight loss surgery.
"Mary, it's unbelievable at least it is for me,
to learn what exercise has become in my life.
I'm 26 years old and had gastric bypass surgery two years ago.
I was depressed before surgery and I still was after surgery.
My life didn't magically get better.
I knew I needed to start exercise
but I didn't know what to do or how to do it.
I guess I was just embarrassed.
When I had surgery I was 160 pounds overweight.
I just wanted the weight to come off
while I stayed in my house and then emerge
twelve months later as the new me!
With the encouragement of my best friend,
I started to ride my bike two months after surgery.
She came to my house and we rode our bikes
around my neighborhood usually in the late morning
so that kids would be in school and people would be at work.
I felt like the less people who saw me, the better.
Over the next six months, as I got healthier and more confident,
our bike rides got longer, more frequent, and more interesting.  
Exercise has had a great impact on my body.
But what it has done for my mind
and my well-being is incredible.
Exercise saved my life.
I have never had anything in my life
that's just been for me.
Something that gives back to me
exactly what I give to it.
You know how you can love somebody
but you can't count on getting that love back?
That's the opposite of exercise.
When I exercise, I get out of it as much as I put into it.
It never disappoints me or lets me down.
It is always there for me.
It adjusts to what I have time for,
or the energy for, or the resources for.
It always works with me.
For my whole life I thought it was food
that was always there for me,
and that it could make me feel good
no matter what was going on.
But food doesn't work the same way exercise does.
I was classified as morbidly obese when I was 21 years old.
Food did not love me back.
EXERCISE LOVES ME BACK!
I just want people to know that exercise is not something
you should consider doing after surgery.
You MUST do it after surgery.
Exercise is what will get you through everything else.
It will get your body where you always dreamed it could go.
It will teach your mind that all things are possible.
It teaches you so much about yourself, what you're really capable of!"
~Rosalie

(What I didn't include in my original post were details about my divorce. It was too difficult to talk about what was happening. But I kept a journal then, and now I can talk about it, I need to.)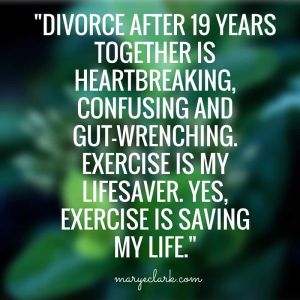 Rosalie's words are also my words.
Exercise has become my new partner.
I don't miss many days because it's what keeps me sane.
If I do miss it's because I absolutely could not exercise because my kids,
my granddaughter, my mom, or my aunt needed me.
At 10 p.m. I may be running the stairs at the school,
or doing a step workout at 2 p.m., or Pilates at 6 a.m.,
but I will find the time because my sanity depends on it.
A divorce after 19 years together has not only been heartbreaking,
but confusing and gut-wrenching for myself and my kids.
Exercise is my lifesaver. With it, I'm a better mom,
grandma, daughter and niece.
I'm telling you now, actually pleading with you…
Try lots of different kinds of exercise and discover what you like.
It doesn't matter how crazy your exercise seems to other people.
If it makes you sweat, and you look forward to doing it,
well that's all the criteria I think you need.
There's a lot of things we can do to reduce stress,
but I believe exercise by far is the greatest.
It's saving my life.
Love, light and peace to you.