This pic is me discovering the "Lateral Trainer" and falling in love.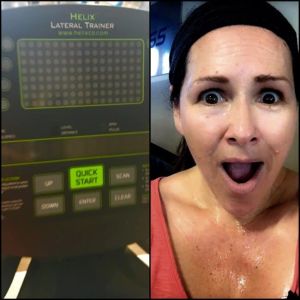 I've figured out I'm not an exercise loyalist.
What I mean is, I'm definitely a believer in consistent exercise, just not the same exercise all the time.
It's funny though. Whatever exercise I'm doing at the time, I'm in LOVE with it. There's nothing better. It's life.
About a month ago I switched from step aerobics to walking at the park. I said to my kids, "Walking is life."
But I've also said,
"Stepping is life."
"Rebounding is life."
"Pilates is life."
"Yoga is life."
"Swimming is life."
Last week I started saying, "Oh my gosh – the gym is life." YIKES! This is a new one for me. I haven't worked out at a gym, except when I'm on vacation, for YEARS! Definitely not since I had weight loss surgery 5 years ago. My son works at a gym, and for months he's been asking me to go in and try it out. "No thanks, sweetie. I love (insert name of favorite exercise-of-the-month here.)"
And then circumstances changed. My daughter graduated from high school which freed up her nights from homework and studying. "Mom, would you go to the gym with me?" I decided to give it a one-week trial. That was two weeks ago.
I LOVE THE GYM! We've been going about 9 or 10 pm. I get to see my son interacting with gym members, work out with my daughter, and watch cable TV news on multiple screens.
Let me tell you WHY, after a few nights of watching cable news, I understood WHY I was guided to the gym.
Even if you don't watch late night cable news, you already know what kind of commercials they show.
High powered, military-style flashlights.
Walk-in bathtubs.
And lots of medications.
This is where my WHY got reinforced AGAIN.
The commercial for HUMIRA, that I used to inject for Rheumatoid Arthritis.
The commercial for diabetes supplies, delivered to your door.
I'm on the lateral trainer, seeing the happy HUMIRA woman at the Pier spending time with friends, the delighted DIABETIC couple opening their package of glucose test supplies, and I think to myself, "This is WHY I'm here."
It's the right message at the right time, reinforcing my WHY.
When I'm on the lateral trainer, elliptical, or treadmill, and I start telling myself, "Hey, 35 minutes is enough for today. You walked a lot at Target," I swear the HUMIRA commercial comes on and I…keep going.
Sweetheart, what messages are coming to you, trying to remind you of your WHY?
~You come across an old insurance statement, noting copays to the doctor you used to see every month.
~You find an expired bottle of medication, you used to take twice a day.
~You see a photo from the last family reunion and can't find yourself. Oh wait, there you are, hiding behind cousin Ted.
~You just turned down an invitation to go…
horseback riding,
hiking,
to the beach,
to Disneyland…because you don't feel as good anymore, physically, mentally or emotionally.
My weight loss surgery sister, I ask you to please stay alert to the messages in your life. Notice them. Let them remind you of your WHY. Pay attention, and then take action.
Insight and action.
Love, light and grace to you.