In 3:14 you'll learn…
Why Brené Brown encourages you to show up and be real.
How a confident 19 year-old with ADHD taught me about courage and compassion at Disneyland.
How I don't obsess anymore about choices I've made.
For my birthday last month, I went to Disneyland & California Adventure with three of my kids, Travis, Grace, and Adrian.
At the end of a long but really wonderful day, we were leaving the park and neared a rest area where a young mom was struggling to settle her writhing toddler into a stroller. The little girl was screaming at the top of her lungs. You know the scream. It clearly means, "I'm beyond worn-out! Take me home!" Parents know this distress call very well.  But still, the majority of people ahead couldn't help staring at the troubled family.
But I, being the caring and attentive person I am, made the decision to not be one of THOSE people who stared. No. I would simply walk by the young family and give them their space. "Yes, that's the right thing to do," I thought.
But my 19-year-old son with ADHD, Adrian, had a better idea.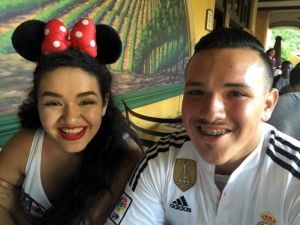 Adrian has given me permission to discuss his condition. He started to embrace his ADHD in his junior year as he began to understand how it affected him in positive ways. Confidence, spirit and courage are his trademarks.
These qualities were abundantly apparent when Adrian, just a few steps ahead, approached the weary mom and gently said, "She's just tired, right?" The mom looked up at him and cried out, "Oh my gosh she's exhausted! And so am I!" With that, her body seemed to release pressure as she slumped into the bench. Adrian moved in a little closer and said, "Hey, I'm tired too. No worries. It's all good." The mom smiled.
Spiritual teacher alerts: Brené Brown and Adrian
"Authenticity is a collection of choices that we have to make every day.
It's about the choice to show up and be real." ~ Brené Brown

"She's just tired, right? Hey, I'm tired too. No worries. It's all good." ~Adrian
When I made the decision to just "walk by," I told myself, "If I say something to this young mother, she'll think I'm the know-it-all mom who's judging her on how she can't control her child." Looking back, I was justifying not stepping into vulnerability.
My job is to claim courage, walk up to the mother and say, "Would you like me to push the stroller while you carry her?" Or, "Is there anything I can do to help you?" And if she says no, that's fine. But it's not my business to get inside her head and assume I know what her response will be. My job is to live in peace with myself, so when I go to bed at night I'm not mulling over things I wish I would have done differently. But when it happens, like it did at Disneyland, I replay the situation, question my action or inaction, and notice how I could have responded in a way that's truer of the person I'm practicing to be. I speak it out loud and let it go.
Here's what else I learned. My spiritual teachers aren't just those who've inspired me for 29 years on TV, or acclaimed authors with Harvard degrees, or brilliant researchers with 20 million TED views. My spiritual teachers, if I allow them, are people who come into my day demonstrating vulnerability, courage and compassion, especially in the face of adversity. My job is to see it, learn, and practice.
Thank you, mother at Disneyland. Thank you, Brené. And thank you, Adrian.
Love, light and peace to you. 🌞