Yes, I had a 13-pound baby boy. (That's him now in the picture!) Two years later I had a 12-pound baby girl.
I was quickly transported back to my daughter's birth when I read Brené Brown's quote, "Joy collected over time fuels resilience – ensuring we'll have reservoirs of emotional strength when hard things do happen." I remembered sitting on a cold surgical table picturing my children around our Christmas tree, while a huge epidural needle was injected into my back THREE times.
My daughter was a scheduled C-section since she already weighed 12 pounds at eight months gestation. I had an amniocentesis to make sure she was good to go, and the following day I was in the operating room. What I didn't know was that my anesthesiologist didn't have a good track record.  And so he tried THREE times to get the epidural in, poking around in all the wrong places…the pain was intense. In my mind, I took myself to Christmas morning, imagining my children around the tree, the fireplace burning, joy all around…and I got through it.
I think Brené means that when we're completely present in our moments of joy, fun, excitement, happiness, and we take it all in, we're filling up the RESILIENCE reservoirs so we have what we need when we're faced with life's challenges. I already had four kids at home on Christmas mornings, so I knew how wonderful it was. I RECALLED JOY when I needed it most.
A great example of JOY RECALL is when Facebook creates "Look back" mini-movies. People don't usually post their worst moments on Facebook, it's their happy, silly, fun, exciting moments they share with friends. So for most of us, a "Look Back" collects our JOYS and shows it to us in a mini-movie. I think that's a great thing! Sometimes when we're in hard situations it's difficult to remember all the joy we HAVE experienced in our lives.
My daughter made a Flipogram last week. I'm not sure what prompted her to do it but I knew she'd been having a rough day. I looked at her and said, "Wow, are all those pictures just from this year?"  She nodded yes.  "You have quite a life," I told her.  She smiled, "I do, Mom."
Are you collecting JOY?
I read that Maya Angelou's favorite song was, "I Hope You Dance."  I saw a video of  Lee Ann Womack singing it at Dr. Angelou's funeral. I love what this song stands for, although I haven't always been brave enough to step out and dance. But I'm practicing.
One evening, my family and I went to our local park for a concert under the stars. I wanted to be there because our family had been going through a tough time and I felt we needed…some joy. When the band started to play it was still daylight. At the beat of the very first song my granddaughter, Sadie, grabbed my hand and said, "Come on Gigi, let's dance!"
Oh my gosh, really? Now? In broad daylight?
I looked at my daughter hopefully, "Do you want to dance with Sadie?"  She gave me a look that told me exactly what I was already thinking.  And then, two thoughts flashed through my mind.
1.  My sister is lying in a hospital bed with a huge mass in her chest at this very moment. They don't know what it is.
2.  My beautiful granddaughter, who has no worries about what people think, wants to dance with me.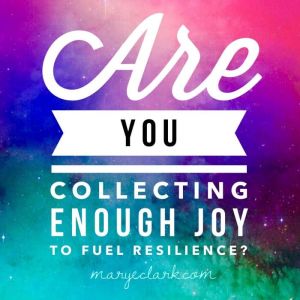 And so, I danced with my Sadie. There were only about 10 people on the dance floor for that song and the park was filled with people. By the time it was dark there were at least a hundred kicking up their heals. Sadie and I kept dancing. She jumped, laughed, twirled… and I think attempted the splits. And my JOY-CUP was filled to the brim…I filled up my RESILIENCE reservoir.
"…and when you get the choice to sit it out or dance, I hope you dance."
Are you dancing? And when you do, are you completely present in that moment of JOY?  Dr. Martha Beck says to take these moments of joy and put them into a beautiful treasure chest so when you need them, you just open up your golden treasure chest and take out your joyful memories. Martha is teaching us how to fill up our RESILIENCE reservoir.
You can also use Flipogram.